Dermaplaning in Bloomfield

Exfoliation Made Easy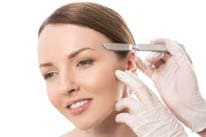 Exfoliation. Big word. But if you're reading this page, you've probably heard it over and over again.  It's one of the key concepts in skincare. …But what is exfoliation, and why is it important to you?
Exfoliation is the process by which the superficial layer(s) of the skin is removed. What's that do? Well, it turns out that it's natural to shed the topmost layer of the skin. New skin cells are generated by the deeper layers. They travel up the skin layers and push off the topmost layer of skin cells.
That top layer of skin cells represents the oldest layer of skin cells.  These are the ones that have suffered the most exposure to the environment and have suffered environmental damage.  They're also the oldest skin cells.  As you age, they accumulate. And since they're old and dead cells, your skin looks lackluster.  It doesn't have that youthful blush, that youthful vibrancy.
Your fifteen-year-old daughter sloughs her skin cells all the time. And she has beautiful skin that, let's face it, you envy.
The good news is that we, and by we, I mean our aesthetician, can get rid of that top layer of dead skin cells and induce the bottom layers to replace that dead layer with fresh young-looking skin.
That's where Dermaplaning comes in.  Our aesthetician takes a special scalpel and applies it to your facial skin, removing the dead, top layer of cells, and peach fuzz. So, basically, it's like shaving your face.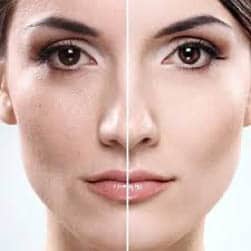 Dermaplaning gives you softer, brighter skin and gives you a smooth foundation for the application of skincare products.  It does all this without the harsher process of a chemical peel. But, paradoxically, if you're going for the wow factor of a chemical peel, Dermaplaning is a good preparatory step.
So, why shouldn't everybody go under the scalpel?  Well, you don't want Dermaplaning if you have very sensitive skin, like rosacea. It may exacerbate things.  And if you have active acne you should sit this one out.
Otherwise, it's good for everyone who wants smoother, softer skin.  But, if you want deeper exfoliation, with better-looking skin as a result, then you probably want a chemical peel.  A little more effort, a little more down-time but more dramatic results.
The bottom line is you need to talk this stuff over with someone who knows the whys and wherefores of these various options.  Christina, our sparkling aesthetician, is the one to talk to. Click on the button below and fill out the form to get a free consultation.  Or, better yet, don't wait.  Call 860-286-8000 right now and make your appointment.
About Vivesse Med Spa
Vivesse is a medical spa in Bloomfield, Connecticut dedicated to bringing the most up-to-date cosmetic medical spa treatments to the Hartford area including the communities of Avon, West Hartford, Simsbury, South Windsor, Hartford & Manchester. We offer laser hair removal as well as skin care treatments by licensed estheticians including Hydrafacials, Microdermabrasion, Chemical Peels, and Medical Facials. Vivesse is led by Dr. Lori Greenwald, who is recognized as one of the best surgeons in the country by both Money Magazine and the Consumer's Research Council of America and is recognized as an Alma Laser Luminary for laser therapy.