Age spots are flat brown, gray, or black spots on the skin. They usually occur on sun-exposed areas. Age spots are also called liver spots, senile lentigo, solar lentigines, or sun spots. It is most common to get age spots on hands and age spots on faces.
What causes age spots? The most common cause of age spots is exposure to the UV radiation of the sun.
Age spots are also known as sunspots, liver spots, senile lentigo, or solar lentigines.  They can occur on any area of the body that has had excess sun exposure.  They are most common on the face and hands and can also be found on the legs.  And they're called age spots for good reason. They make you look your age. That's why so many people want to get rid of them.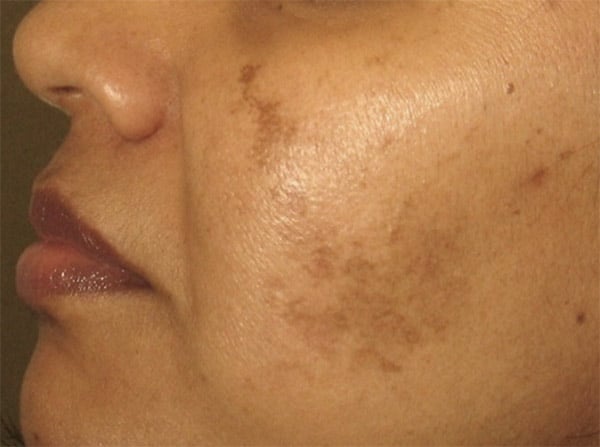 The good thing is that we can get rid of those age spots (senile lentigos, solar lentigins). Depending on how extensive your age spots are, it may take a few treatment sessions but relief is in sight.
Age Spot Treatments available at Vivesse:
IPL Photofacial (Intense Pulsed Light) An intense light is produced that is applied in a series of gentle pulses over the age spots. The light penetrates the skin and is absorbed by and heats the pigmentation in these age spots causing them to disappear.
PRP Facial (Platelet Rich Plasma) This treatment also works for age spots. The new skin that grows in response to the plasma does not have age spots.
Lytera – This skin brightening complex is a cream that you apply to your face daily. It helps to lighten areas of discoloration such as age spots. It works best when used in combination with other age spot treatments.
With so many options to choose, you'll need the guidance of the experts at Vivesse Med Spa in Bloomfield. So, make an appointment with one of our aesthetic practitioners at Vivesse Med Spa for a consult.  Just call 860-761-6666.
Vivesse is a medical spa in Bloomfield, Connecticut dedicated to bringing the most up-to-date cosmetic medical spa treatments to the Hartford area including the communities of Avon, West Hartford, Simsbury, South Windsor, Hartford & Manchester. We offer treatments for a variety of skin conditions including age spots, rosacea, melasma, wrinkles, acne scars, double chin, dark circles and sun damage. We are one of the only skin care facilities in Hartford to offer Plasma Facial with PRP (Microneedling). Vivesse is led by Dr. Lori Greenwald, who is recognized as one of the best surgeons in the country by both Money Magazine and the Consumer's Research Council of America and is recognized as an Alma Laser Luminary for laser therapy.
Book an appointment for Age Spots treatment. We will schedule your consultation.