Worship the Sun
and Pay the price
By now, we've all heard horror stories about the damage that can be caused by sun exposure, especially if you don't use an effective sunblock. Sun damage can give you a wrinkled, leathery face.  It can also cause sunspots.  And let's face it, sun spots just make you look old. And that's putting aside the risk of skin cancer.
Here's what leathery skin looks like after many years of sun exposure:
And here's what one poor woman looks like with sunspots: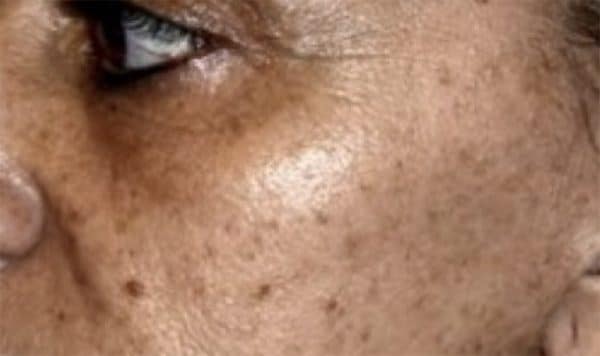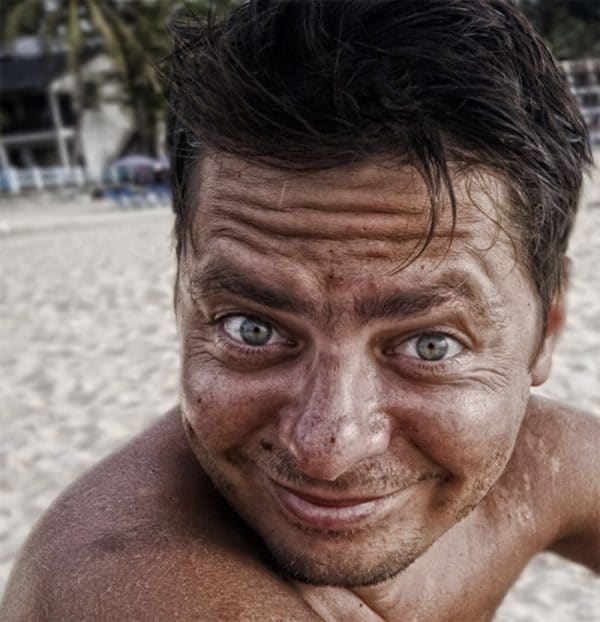 Treatments for Sun Damaged Skin
Let's face it, the guy with the leathery skin is never going to look young and untouched by the sun. There's only so much that modern medicine can do for some things and there's no point in lying to you.
But there are a few things that could help, especially in a less extreme situation.
PRP Facial (Platelet Rich Plasma) Your plasma is chock full of factors that cause the growth of collagen and elastin. The plasma is applied in one easy session that takes a half hour.
Fractional Resurfacing  The ultimate treatment for skin renewal. Using a laser, we remove the top layer of skin.  Then, the deeper layers grow and replace it with younger skin cells.
The woman with the sunspots is much easier to treat.  Treatments for sun spots and sun damaged skin are:
IPL Photofacial (Intense Pulsed Light) An intense light is produced that is applied in a series of gentle pulses over the sunspots. The light penetrates the skin and is absorbed by and heats the pigmentation in these sun spots causing them to disappear.
PRP Facial (Platelet Rich Plasma) This treatment also works for sun spots. The new skin that grows in response to the plasma does not have sun spots.
Lytera – This skin brightening complex is a cream that you apply to your face daily. It helps to lighten areas of discoloration such as sun spots. It works best when used in combination with other treatments.

With so many sun damage treatment options to choose from, you'll need the guidance of the experts at Vivesse Med Spa.  So, make an appointment with one of our aesthetic practitioners at Vivesse Med Spa for a consult.  Just call 860-761-6666. 
Vivesse is a medical spa in Bloomfield, Connecticut dedicated to bringing the most up-to-date cosmetic medical spa treatments to the Hartford area including the communities of Avon, West Hartford, Simsbury, South Windsor, Hartford & Manchester. We offer treatments for a variety of skin conditions including age spots, rosacea, melasma, wrinkles, acne scars, double chin, dark circles and sun damage. We are one of the only skin care facilities in Hartford to offer Plasma Facial with PRP (Microneedling). Vivesse is led by Dr. Lori Greenwald, who is recognized as one of the best surgeons in the country by both Money Magazine and the Consumer's Research Council of America and is recognized as an Alma Laser Luminary for laser therapy.
Book an appointment for Sun Damage treatment. We will schedule your consultation.