Double Chin Treatments in Hartford
Look in the mirror and see a turkey neck?  It's the dreaded double chin.
A double chin is an accumulation of fat under the chin forming a pouch.  It's unattractive and makes you look old.  It distorts the natural and youthful oval shape of the face. It also drags down the contour of the face, making you look heavy.
A true double chin is caused by an accumulation of fat.  Some people have sagging skin under the chin, giving a similar appearance.  This condition by definition isn't a double chin. Definition, shmefinition.  It looks the same and it still makes you look old and overweight.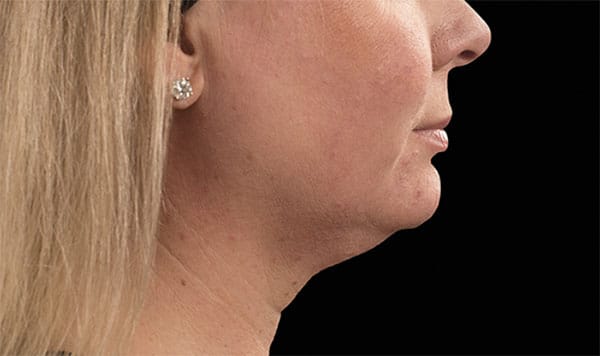 It turns out that double chins are easy to treat with non surgical modern technology.  Non surgical double chin treatments include:
Profound – This is the ideal treatment when the problem is sagging skin under your chin and on your neck. Using radiofrequency microneedles, it restores collagen, hyaluronic acid and elastin. Profound gives you the effects of a neckliftwith one treatment that restores elasticity to your skin.
VShape – If you have turkey neck this treatment is perfect for both fat and excess skin under the chin. VShape combines both radiofrequency and ultrasound energy.  Together, they both bust up fat cells and tighten skin.
Kybella – This much talked about new double chin treatment is just the ticket when the problem is an excess of fat under the chin and sagging skin is not an issue. It is an injectable form of deoxycholic acid which literally dissolves fat, ridding you of the double chin.

As you can see, the choice of non surgical treatment depends on your specific situation.  The aesthetic practitioners at Vivesse Med Spa know which double chin treatment is best for you.  If you are a man or a woman who wants to get rid of your double chin, make an appointment for a consultation at (860) 761-6666
About Vivesse Med Spa
Vivesse is a medical spa in Bloomfield, Connecticut dedicated to bringing the most up-to-date cosmetic medical spa treatments to the Hartford area including the communities of Avon, West Hartford, Simsbury, South Windsor, Hartford & Manchester. We offer treatments for a variety of skin conditions including age spots, rosacea, melasma, wrinkles, acne scars, double chin, dark circles and sun damage. We are one of the only skin care facilities in Hartford to offer Plasma Facial with PRP (Microneedling). Vivesse is led by Dr. Lori Greenwald, who is recognized as one of the best surgeons in the country by both Money Magazine and the Consumer's Research Council of America and is recognized as an Alma Laser Luminary for laser therapy.