How well does the TriHex Transition Duo from Alastin work?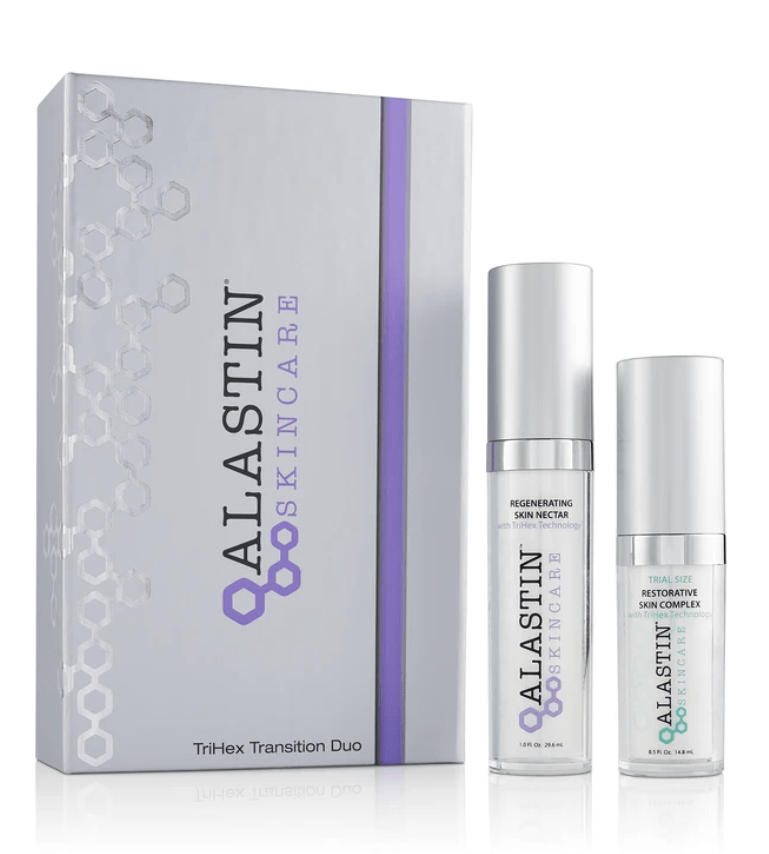 TriHex Transition Duo skincare is made for patients undergoing skin-rejuvenating procedures.  It helps prepare the skin prior to a procedure, supports recovery after a procedure, and ensures a smooth transition to daily skincare in a manner that helps to maintain the benefits of the procedure.  The products include the Regenerating Skin Nectar and the Restorative Skin Complex.
 Both products use Alastin's TriHex Technology, a combination of skin rejuvenating antioxidants, peptides and other active ingredients which repair skin damage and promote healing. Used together, these products maximize self-repair of your skin and help produce new collagen and elastin, both before and after anti-aging treatments.
About Each Product:
Regenerating Skin Nectar – This product conditions your skin and prepares it for the upcoming procedure. It's also excellent during the recovery phase after the procedure because it speeds skin healing, calms your skin and boosts skin's natural ability to form new collagen and elastin.
Restorative Skin Complex – This product helps maintain your skin's new youthful appearance and protects your investment in your procedure. Ingredients like peptides and botanicals provide further skin cell renewal, even out your skin tone, lift skin and restore plumpness to reduce wrinkles and fine lines.  It's antioxidants shield your skin from future skin damage.
Key Benefits:
Evens skin tone
Plumps aging, thin skin
Minimizes the look of fine lines and wrinkles
Protect your skin from future damage
Clears skin damage leaving healthy skin behind
Antioxidants soothe your skin and lessen redness
Encourages production of elastin and collagen – essential for youthful skin
Directions:
REGENERATING SKIN NECTAR
Apply two pumps to the treatment area both in the AM and PM. Begin using about 2-3 weeks before and continue use after cosmetic surgery or non-surgical cosmetic procedures.
RESTORATIVE SKIN COMPLEX
After the cosmetic procedure, apply two pumps to the treatment area both in the AM and PM.
Call 860.761.6666 to purchase the Alastin TriHex Transition Duo and learn more about the products we offer.
Vivesse is a medical spa in Bloomfield, Connecticut dedicated to bringing the most up-to-date cosmetic medical spa treatments to the Hartford area including the communities of Avon, West Hartford, Simsbury, South Windsor, Hartford & Manchester. We provide everything from
Botox
and
Juvederm
to
Hydrafacials
and
laser skin resurfacing
and
skin tightening
. Vivesse is led by
Dr. Lori Greenwald
, who is recognized as one of the best surgeons in the country by both Money Magazine and the Consumer's Research Council of America and is recognized as an Alma Laser Luminary for laser therapy.