The Secret to Youthful Skin: Part 2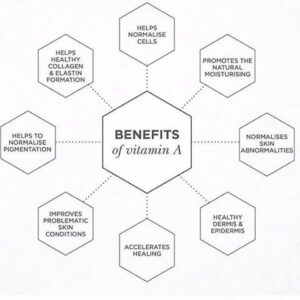 Vitamin A should be the cornerstone ingredient in your skin care routine. This wonder vitamin has the ability to repair damaged DNA—very little things can do such a miraculous thing! Precancerous skin cells have the ability to be transformed to normal healthy cells within two years. The more vitamin A in your skin, the younger and healthier your skin will become.  Vitamin A in the form of retinoic acid was originally given to acne patients; however, clinical studies found that the adult acne patients were returning with less wrinkles. This regenerative effect occurred due to vitamin A's ability to stimulate fibroblast cells, thereby increasing the amount of collagen and elastin within the dermal layer.  For radiant, glowing skin make vitamin A the foundation of your skin care regimen.
Why would I want to put vitamin A on my skin in the day? And, doesn't that make me more sensitive to the sun? It all depends on what form you are using. There are different forms of vitamin A that should only be used at night: retinol and retinoic acid (Retin-A). When used during the day, these forms become unstable and will make you more sensitive to the sun. However, when the fat-soluble form of vitamin A is used during the day, it will actually protect your skin from sun damage and environmental aggressors.
Will vitamin A thin my skin? Absolutely not! Vitamin A actually makes the dermal layer thicker, thus creating healthier tissue. The top layer of the skin will become thinner due to the exfoliating effects of retinol and retinoic acid, but that is precisely what we want. Smoother, healthier tissue at the right depth, and—thick, juicy skin from the ground up.
Veritas,
Jodi Daniels, Medical Aesthetician
Vivesse is a medical spa in Bloomfield, Connecticut dedicated to bringing the most up-to-date cosmetic medical spa treatments to the Hartford area including the communities of Avon, West Hartford, Simsbury, South Windsor, Hartford & Manchester. We provide everything from
Botox
and
Juvederm
to
Hydrafacials
and
laser skin resurfacing
and
skin tightening
. Vivesse is led by
Dr. Lori Greenwald
, who is recognized as one of the best surgeons in the country by both Money Magazine and the Consumer's Research Council of America and is recognized as an Alma Laser Luminary for laser therapy.