Hyaluronic Acid: Perfecting the Art of a Smooth Canvas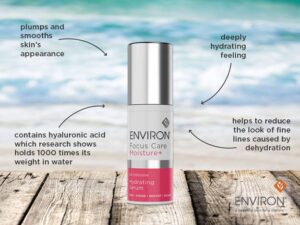 The use of hyaluronic acid provides immediate smoothing to the skin's surface.  Wrinkles are less noticeable as the cells are increased in volume. This is primarily due to hyaluronic acid's ability to hold a 1,000 times its weight in water. A medical-grade hyaluronic acid is not limited to just surface activity: it actually increases your own hyaluronic acid levels, thereby making the epidermis much healthier and younger.
Ideally, we want our own skin producing more hyaluronic acid; a clinical grade formula will cause the skin to replenish its own hyaluronic acid for long term epidermal health. Also, certain foods that we eat will also increase our hyaluronic acid levels, especially raw fruits.  This "water-loving" molecule has a large molecular structure, which means that cosmetic micro-needling will increase efficacy and provide faster results before applying hyaluronic acid.
When there is a lack of hyaluronic acid in the skin, the face looks much older than it really is. Fine lines, wrinkles, and dry skin are more apparent, adding 10-15 years to the face. A complete hyaluronic acid facial serum will renew the barrier of the skin, increase the longevity of the skin cells, have antioxidant qualities, and increase hydration levels. Quality matters.
Our goal in skin care is to preserve the integrity and overall health of the epidermis. Including potent cosmeceuticals such as hyaluronic acid, vitamins, peptides, growth factors, and antioxidants will open up an entirely new chapter for skin rejuvenation. It is not one single ingredient that will create a more youthful appearance, but rather a unique combination of powerful skin agents that will give you a younger, healthier-looking appearance.
Veritas,
Jodi Daniels, Medical Aesthetician
Vivesse is a medical spa in Bloomfield, Connecticut dedicated to bringing the most up-to-date cosmetic medical spa treatments to the Hartford area including the communities of Avon, West Hartford, Simsbury, South Windsor, Hartford & Manchester. We provide everything from
Botox
and
Juvederm
to
Hydrafacials
and
laser skin resurfacing
and
skin tightening
. Vivesse is led by
Dr. Lori Greenwald
, who is recognized as one of the best surgeons in the country by both Money Magazine and the Consumer's Research Council of America and is recognized as an Alma Laser Luminary for laser therapy.