Chemical Peels: A Lighter Approach to Skin Peeling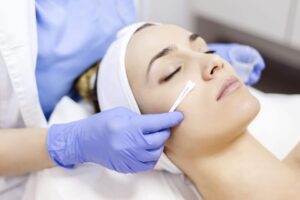 Chemical peels do not have to be a daunting endeavor.  Resurfacing the skin with light, consistent peels not only preserves the integrity of the skin, but eliminates the harsh effects of deeper peels such as recovery, pain, and possible complications. Peeling the entire epidermis is unnecessary; a better strategy would be to shock the keratinocytes (cells in the outermost layers of the skin), thereby stimulating growth factors. This effect will rejuvenate the skin by creating more collagen, elastin, and hyaluronic acid. It is a common myth that the skin needs to peel in order to stimulate collagen; stressing these keratinocytes is sufficient enough.
Acneic conditions are best treated with light, repetitive peels. Our goal is not so much to peel the skin, but rather to disinfect the acne, similar to what topical antibiotics do for this condition. Daily peels of 2.5% trichloracetic acid for 10 minutes will rapidly get the acne under control. Combine this regimen with high doses of vitamin A and the skin will transform pretty quickly.
Those who suffer from pigmentation have to be especially careful when doing peels.  Chemical peels create inflammation, this in turn will stimulate the enzyme tyrosinase, which in the end can create more pigmentation. Peels are like the paradoxical cure for pigmentation.  The best and safest way to condition the skin before a peel is to use vitamins A, C and antioxidants for at least 3 weeks before the chemical peel; this will help eliminate post peel pigmentation, and if there is any that does occur, it will resolve within a few weeks.
A physical sunscreen is imperative during the peeling process and should become the cornerstone in your daily regimen.  Using inorganic sunscreens such as zinc and titanium dioxide will protect fragile skin and are quite necessary, as chemical sunscreens can create free radicals and further damage the skin. Also, there is a certain amount of heat generated with chemical sunscreens, which can further exasperate pigmentation issues.
Effective peeling requires the skin to be conditioned beforehand with adequate amounts of vitamins A, C, E and antioxidants to produce the best outcome. The addition of vitamin C helps with collagen synthesis, inflammation, and pigment regularity.  The destructive method of heavy peeling will cause more damage rather than regenerating the skin. With lighter, consistent peels, scarring and pigmentation is virtually eliminated. The epidermis becomes much thicker and healthier, which is our greatest defense against atmospheric aging.
Veritas,
Jodi Daniels, Medical Aesthetician
Vivesse is a medical spa in Bloomfield, Connecticut dedicated to bringing the most up-to-date cosmetic medical spa treatments to the Hartford area including the communities of Avon, West Hartford, Simsbury, South Windsor, Hartford & Manchester. We provide everything from
Botox
and
Juvederm
to
Hydrafacials
and
laser skin resurfacing
and
skin tightening
. Vivesse is led by
Dr. Lori Greenwald
, who is recognized as one of the best surgeons in the country by both Money Magazine and the Consumer's Research Council of America and is recognized as an Alma Laser Luminary for laser therapy.