It's finally SUMMER! But what does this mean for my skin?
This means it's time for the summer switch-up in your skincare routine, adding extra hydration, and more sun protection.
Extra TLC from your Esthetician will not only educate you on how to properly care for your skin during summer, but also provide you the right in-house treatments for your skin during this smoldering season.
Let's address how we can achieve:
*Proper summer exfoliation
*How to use sun protection while preventing skin concerns associated with sunscreen
*Climate effects on skin and what we can do about it
So, how does summer actually effect my skin?
Hot climates can dry out the skin, leaving it water dehydrated. This can cause the skin to over compensate, by producing more oil. Perspiration that combines with this oil and bacteria can lead to breakouts. Wearing cosmetics can further trap this sweat, oil, and bacteria, increasing breakouts and further clogging pores. This is why it is important to not only receive regular facials, but also to gently exfoliate at home; to remove those dry, dead skin cells, reducing debris buildup in the pores. Even if you are not one prone to blemishes, Exfoliating will allow your skin to have a fresh clean slate, as the skin will be optimum and ready to receive products, to efficiently penetrate and work effectively. This will further control any existing breakouts and any in the future, as well as allow for smoother cosmetic application. Adjust the frequency and aggression of exfoliation to fit your skin type and individual needs. Remember, exfoliation can make your skin a bit more sensitive to sun, so exfoliate with care and don't skip the sunscreen!
Sunscreen, do we really need it?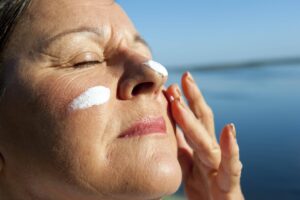 The sun is responsible for over 90% of skin aging and changes! Doesn't everyone need sunscreen? If you're looking to preserve your youth and the overall health of your skin, make sun protection part of your daily skincare regimen. How do we protect our face with sunscreen without causing breakouts or other issues and concerns? I hear often that a good number of people do not like the heavy or greasy feel sunscreen can have on the face. There are amazing formulations amongst various skincare and cosmetic lines that offer a light comfortable feel. Skincare has progressed so much over the years, there is something out there for everyone. Experiment and find a facial sun protectant that's right for you. Don't miss application to ears, in eyebrows, scalp, and lips!
Here we come full circle on that summer switch-up to your regimen products! Not only does the right type of sunscreen make a major difference on the overall feel and health of your skin, Changing your cleanser, toner, correctives, and moisturizers will make that sunscreen feel like it's not even there, in addition to controlling those skin issues we all dread. For summer, use a deeper cleansing face wash to eliminate sweat, oils, bacteria, makeup, and that sunscreen! Using correctives that contain exfoliating ingredients, also anything that lightens and brightens, will really control visible sun damage and acne concerns. Keeping new pigmentation at bay as well as handling any current pigmentation is key. There is a double edge sword to this one though- these types of corrective serums can make you more sensitive to those sun rays we love so much, so you guessed it- double up on that SPF!
What does sun damage even entail?
Beyond sunburns:
Pigmentation-darkening of age spots, freckles, acne, or other scarring.
Drying and dehydration of skin causing loss of suppleness, volume, healthy texture, which causes fine lines and wrinkles, as well as skin cancer.
Capillary damage, causing those tiny red and purple web-like veins to show through the skin, that can only be successfully eliminated by laser treatment.
Not your ordinary summer cocktail-quench your skins thirst first
Make it a priority to restore your skins water content after a thorough cleanse before that sunscreen. Helpful ingredients to look for in your serums and moisturizers are aloe, hyaluronic acid, algae, honey, are just to name a few. These will replenish essential moisture and bring back the suppleness. This allows skin to function at the healthy optimum state that it is meant to. Skin hydration is the foundation for all skin changes and maintenance.
Get that skin on lockdown
Lock in those serums! The secret is sealing in those serums with the proper moisturizer over it. Products evaporate out of the skin just like water does. We want to prevent TEWL (Trans Epidermal Water Loss) from happening to our water content as well as our products. Moisture will forever evaporate out of the skin, regardless of water intake and product application. Serums have a smaller molecular size, allowing to penetrate past the epidermis of the skin (first 5 surface layers) and into the dermis of the skin (where skin cells and changes are produced). We love this, however smaller molecular size also means easier evaporation. Use a nice summer friendly formula over your serums once they are absorbed into the skin. it will keep them where we want them, doing what we want them to do. Don't be afraid to carry those gentle hydrating serums to all around the eye area, under the eyes and above on lids and under brow bone. Spread into brows for a gradual brow lift. Drive those ingredients home with an eye gel, serum, or cream. Summer tip- keep eye products in the fridge to make each application a soothing and cooling application every time. This will calm inflamed/puffy, red, or irritated skin, and control dark circles in the delicate eye area. Additional summer tip-work in your cold products with a chilled jade roller or cold guasha tool!
Insider secret: eye products work amazing as lip treatments, as the skin is similar and the molecule size delivers perfectly in the lip area. Lips do not produce their own moisture via water or oil, so apply a serum and lock it in with chap stick or your preferred lip care.
Today in this moment is the oldest you have been, yet the youngest you will be. Seize right now, the time to make a change and to maintain is truly now- stay young in the sun my friends!
Vanessa Martin
Medical Esthetician
Vivesse is a medical spa in Bloomfield, Connecticut dedicated to bringing the most up-to-date cosmetic medical spa treatments to the Hartford area including the communities of Avon, West Hartford, Simsbury, South Windsor, Hartford & Manchester. We provide everything from
Botox
and
Juvederm
to
Hydrafacials
and
laser skin resurfacing
and
skin tightening
. Vivesse is led by
Dr. Lori Greenwald
, who is recognized as one of the best surgeons in the country by both Money Magazine and the Consumer's Research Council of America and is recognized as an Alma Laser Luminary for laser therapy.